🇸🇪 Läs den här artikeln på svenska här
🇪🇪 Loe seda artiklit eesti keeles siit
🇫🇮 Lue tämä artikkeli suomeksi tästä
KYC – account verification
Got a request from us to verify your account, identity and/or payment method? Just follow this simple guide and its instructions, and you are verified in no time! Remember that you can always contact our support via live chat or email support@chanz.com if you need more information.
Why we need verification?
To be sure that we know who we are dealing with. As in every institution that handles money, it is essential to us to know your identity and source of funds. Identity check usually includes ID check, address check and verification of payment methods. It can also include other verification methods, and for this you will get more detailed information directly from our customer service if other documents are requested from you.
The verification is required under the law. It helps us avoid money laundering and terrorist financing as well as protect us and you against frauds like for example identity theft which is unfortunately something that happen these days. But don't worry, your information is safe with us, and only our trained and designated personnel can access your data, and they are stored securely in our servers.
General instructions
Take always clear pictures with your smartphone/camera/device. Make sure that every details in the picture is readable. We prefer pictures taken via your camera/smartphone/device instead of a scanner.
For invoices / proof of addresses we accept also files in PDF format.
Documents needs to be sent to our email support@chanz.com from the same email address you are using at your Chanz.com account.
Please note that we do not accept any document submissions via our livechat or Facebook/Social media channels for security reasons.
Identity Check
Hi there, nice to meet you! We would like you to send us an ID document. This can be driving license, ID card or passport. It must be valid, include your name as it is stated in your Chanz account, your birthdate and valid to date. It must also be valid in your country of residence as official ID card/document. Make sure that you send us both sides of the document, and that we can see all 4 corners of it in the picture!
Proof of address
We would need to establishe your place of residence. This is easily done by an invoice that is addressed to you within last 3 months. This invoice needs to have your name as it is stated in your Chanz account, your address and it needs to be dated within last 3 months. Make sure that it also has a company logo and details who have issued the invoice. If you are taking picture of it, make sure that we can see whole document and can actually read it. You can also send an e-invoice in PDF format.
If you cant provide us with any official invoice, please contact our customer service who can advice for alternative documents we can approve as proof of address.
Payment methods
We would like you to verify your payment methods. Generally there is few different kind of payment methods that we use, and you might need to verify. Please note that if we ask you verify your payment methods, it means that you need to send us proof of all methods you have been using.
Direct Banktransfers: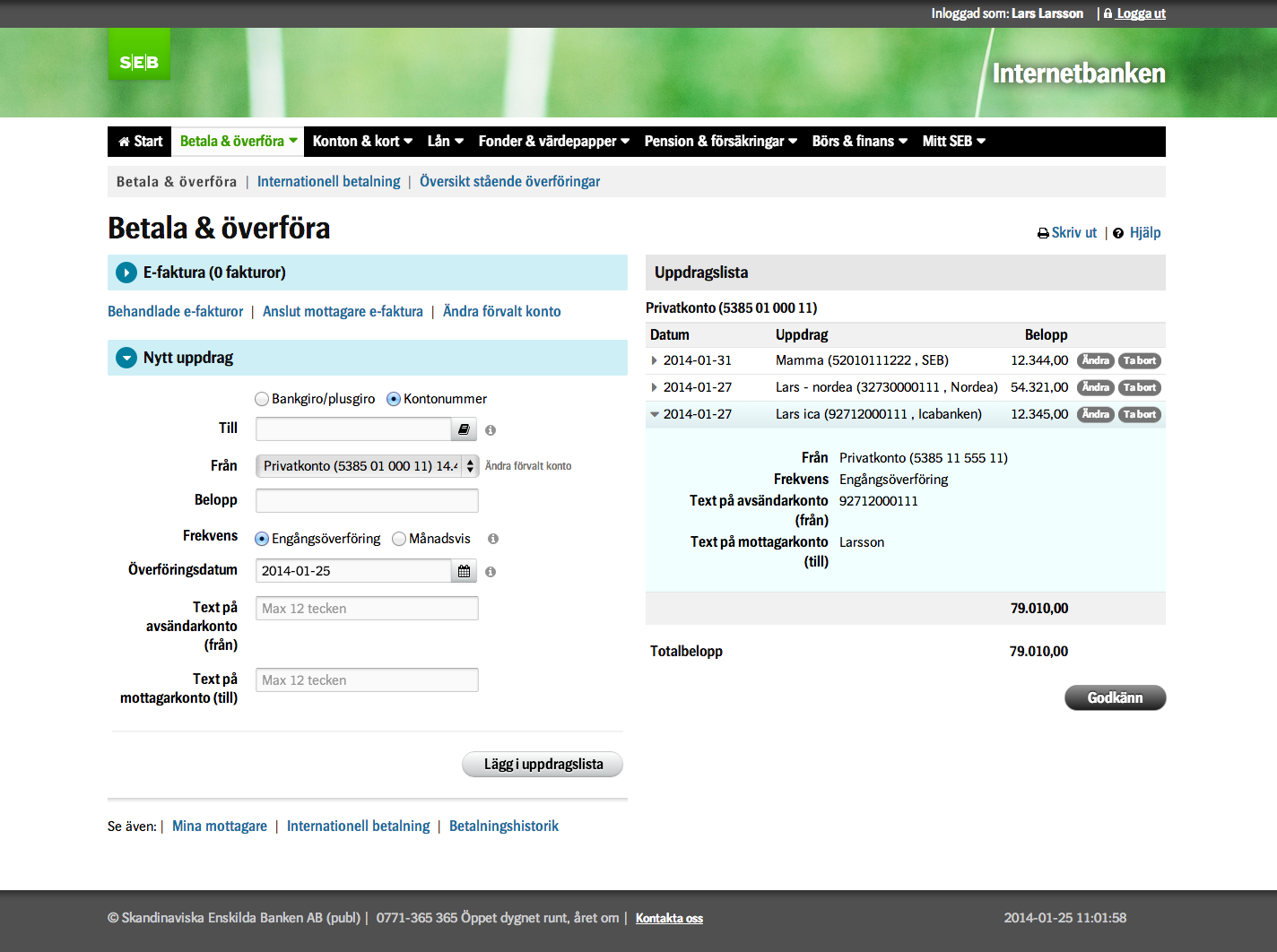 Please send us a screenshot/picture from your internetbank where we can see your name, account number in IBAN format, transfer amount and the reference for the payment. Usually you can get these details from your internetbanks desktop version, and clicking the transaction. All these should be in same picture/screenshot.
Skrill:
We need to see a screenshot/picture of your Skrill profile. Take the screenshot/photo so, that we can see your name, account number (Skrill ID), name and address in the picture. Remember to include the page URL (address) in the picture aswell.
For Skrill we require the screenshot of the deposit aswell. In Skrill transaction find the transfer to us, click it open and take a screenshot so, that we can see the transfer and page URL (address) and your Skrill ID in the picture.
Credit Card:
Here we need few different kind of things. First of all, we need pictures of the card used. Take pictures from the front and back of the card. You can cover the numbers in the middle of the card and CVV/CVC number in the back. If you have account number printed in the back of the card, please do not cover that.
Then  proceed to your internetbank, and take a screenshot/picture of the transaction to us. Please note that it might take few days this to appear in your statement, so you can send an older transaction also, if you have used same card. Make sure that we can see account number, card number and the reference number of the deposit in the screenshot.
Then we need to establishe the ownership of the bankaccount and the card. Most banks usually have a Overview page, where you can see all the cards, accounts and the owners presented. Please take a screenshot of this page. We need to see that you are the owner of the card and the bankaccount.
Verified?
When you have sent the documents to us, it can take up to 1 day for us to check them, usually in hours. If we need any more information from you, we will contact you via email. When the verification is done you will also be notified.
Please note, that we might require additional documents in the future if you start using new payment methods which weren't verified this time.
Thank you for your cooperation and if you have any questions, feel free to contact our staff via chanz.com